The Key to a Great Kitchen? ORGANISATION!
At Panelven Kitchens our commitment to quality finishes and products extends right down to the drawer systems and cabinet shelving systems which will keep your dream kitchen an ordered and tranquil place to cook, play and entertain.
This month we are super excited about the new inventive systems from premium brand KESSEBÖHMER. The Tandem and LeMans II cabinet systems work brilliantly in any kitchen space and add incredible value to the use of your kitchen.
KESSEBOHMER TANDEM
Access twice as much, twice as fast with the innovative TANDEM Pantry Pull-Out. One pull of the door and the intelligently-designed shelves at the rear automatically come toward the user – for instant gratification. Inside-door shelves make organisation easy for everybody and keep often used items right at hand. You can even use two TANDEMS in one kitchen cabinet to maximize your storage capacity.
FEATURES & BENEFITS
Two fittings behind one door for added storage capacity
Can work as two units in a double door installation
Adjustable trays work for every kitchen layout
SoftStopp*  for smooth, silent closing
Suitable for cabinet width of 18″ to 48"
Two frame heights available of 46″ & 68″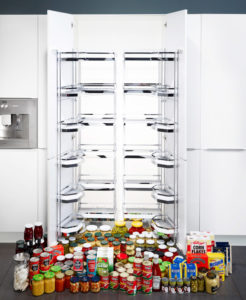 KESSEBÖHMER-  LEMANS II
This intelligent corner system doesn't share a name with the iconic German race track as a co-incidence; the iconic shape and design of this product will leave you speeding round your kitchen in the most efficient and innovative way possible.
The LeMans II features improved design and even more innovative features following on from KESSEBÖHMER'S original award winning LeMans System.
PRODUCT FEATURES
 85°door angle allows the trays to swing out fully for complete ease of access.
Massive 55lb load weight per tray.
Trays are all heigh adjustable to work for any kitchen space.
ClickFixx assembly.
Optional soft closures available.