Stunning New Kitchen Styles
Panelven Kitchens are excited to announce the launch of two brand new kitchen ranges – the Allestree and the Eastdon. Both doors are of high quality timber construction with beautiful detailing making them an asset to any stylish home. 
The Allestree range is a classic door featuring a 79mm stile, 11mm subtle bead, and is made from a solid ash frame with a veneered centre panel. The Eastdon offers a Shaker style with solid ash frame, and similar veneered centre panel. Both doors are available as glazed units, bringing a light and airy feel to your home. 
Both the Allestree and Eastdon range come in four stocked calm and neutral shades which are stunning in their simplicity as well as 28 bespoke colours. The stocked shades feature Calico, Light Grey, Luna or Porcelain, and are all available for the same price.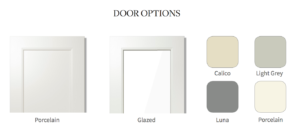 The full details of these gorgeous new affordable ranges can be found at https://www.panelven-kitchens.co.uk/kitchens/allestree/ and https://www.panelven-kitchens.co.uk/kitchens/eastdon-shaker/
Visit www.panelven-kitchens.co.uk to speak to one of our top designers about these kitchens and many more, start the design process for your dream kitchen now!